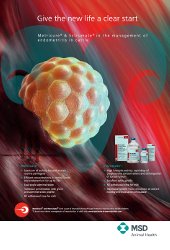 Composition
Suspension containing 500 mg cephapirin (as benzathine) per injector of 19 gram.
Formulation
Oily suspension for intra-uterine use.
Indications
1. Treatment and prevention of subacute/chronic endometritis in cows more than 14 days post-partum.
2. Metricure can also be used for repeat breeders (3 or more unsuccessful inseminations).
Dosage
In general one injector.
Treatment can be repeated after 14 days.
Method of administration
By intra-uterine route of administration.
Withholding period
For meat: 2 days
For milk: Nill
(National regulations should be observed).
Presentation
Polyethylene syringe containing 19 g of suspension, with a separate disposable catheter and glove provided for each syringe.
Storage
Store below 25°C. Do not freeze.
Contra-indications
Not to be used in animals known to be allergic to cephalosporins.
Precautions
Operators known to be allergic to cephalosporins should avoid skin contact with the product.