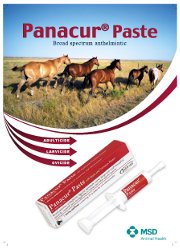 Formulation
Paste for oral administration.
Composition
Each ml of paste contains 0.187 gram of fenbendazole.
Target species
Horses.
Indications
1. Treatment of infections with small and large strongyles, ascarids, Oxyuris spp. and Strongyloides spp. species.
2. Can also be used for treatment of horses with immature and migrating strongyles infections.
Dosage
1. The standard dose is a single dose 7.5 mg/kg, which is equal to 1 syringe of 20 ml per 500 kg bodyweight.
2. In case of infection with migrating larval stages of large strongyles, or encysted mucosal stages of small strongyles, the standard dose of 7.5 mg/kg should be given for 5 consecutive days.
3. In cases of diarrhoea in 2-3 week old suckling foals, caused by Strongyloides westeri, the dose should be 50 mg/kg, which is equal to 1 syringe of 20 ml per 75 kg bodyweight.
Method of administration
By the oral route.
Presentation
Cartons with 1 or 20 syringes containing 20 gram of paste each.
Storage
At room temperature.
Further information
Panacur Paste can be used in pregnant animals.