The complete solution for the treatment of poultry infections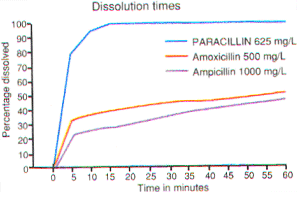 Dissolves rapidly and completely
Unlike many other poultry antibacterials, Paracillin is 100 % soluble as the graph shows.
It achieves this through a unique carrier system which involves neither use of sugars nor raising PH.
No blockage of drinker lines or nipple drinkers
Ensures full dose delivered.
Easy to use.
Rapid bactericidal action
Following oral administration Paracillin rapidly reaches effective blood levels.
In addition, enteroheptic recirculation of amoxicillin enables high levels to be attained in the intestines.
This is particularly valuable when treating, for example, E. coli infections in flocks.
Good tissue distribution
The active ingredient is well distributed throughout the body, thus making it suitable for the treatment of a wide range of infections of all organs.
Decisive antibacterial action
Broad spectrum gram+/gram-
Effective in mixed infections or for treatment pre-diagnosis
Rises to the challenge of E. coli
When broilers that had been challenged with IB virus and E. coli were treated with Paracillin, their (relative) growth rate was protected and lesions minimized (see graph).
Control vaccine reactions
Amoxicillin: Non-toxic
Non-immunosuppressive
Amoxicillin, the antibacterial basis of Paracillin, is well established for its "non-toxic" mode of action which confers important benefits of minimal side effects and lack of immunosuppression. This makes Paracillin particulary suitable for use in controlling secondary reactions to vaccination.
Egg withdrawal-Nil
Paracillin both acts rapidly and is rapidly excreted. Withdrawal time for meat is only 24 hours and for eggs nil, so there is no loss of production.
Paracillin can be used in laying flocks
Dosage
For maximum effect, a once daily dose in water to be consumed in approx. 2-3 hours is recommended.